Apple Time Flies Event September 2020: Highlights and the meme aftermath
This Time Flies Apple Event was unlike a regular Apple Event, and the difference was noted right from the beginning as CEO Tim Cook started the event not from the stage at the Steve Jobs theater but from downhill at the Apple Park HQ talking from glass curved panel. He took off with the new Apple Watch with no mention of the previous year's performance or the health factors. Suffice it to say, the 2020 Apple Event was different.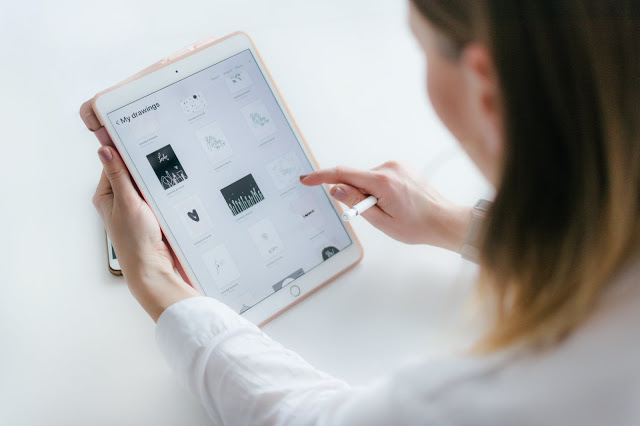 Highlights
The event starts with the release of Apple Watch Series 6 – capable of measuring your blood oxygen levels in a mere fifteen seconds with a cool red variant. More features include- always-on display, numerous exciting watch faces, a family set, and ten sports mode. Price: $399  Indian Price : 49,900₹ (GPS Cellular) and 40,000₹ (GPS) 
Another Watch SE was announced with all the quirks and features to stay healthy, connected, and fit. This also includes a family set and functions with similar software as the new Watch Series 6. Launched at Price: $199   Indian Price 33,900₹ (GPS Cellular) and 29,900₹ (GPS) 
Apple Fitness Plus is a new fitness app that can track your workout, Yoga and includes various workout modes. You can also pair and save your Apple Music track on Fitness plus. Apple Watch users will get 3 months of free subscription. Priced at  $9.99 for a month and $79.99 for a year. 
Apple One service – with this you can keep all your plans under one umbrella of Apple One plan. In India, the Apple One plan is quite affordable at 365₹ for the family plan. Prices: For an individual- $14.95/month  For family $19.95/month Premier at $29.95/month 
And finally, iPad 8th gen and iPad Air – The iPad 8 generation is promised to be 3 times faster with a faster processor A12 chipset. Priced at: $329 and for students : $299   India: 41,900₹ ( Wifi Cellular) and 29,900 (Wifi) 
The new iPad Air may look like the iPad Pro but is power-packed with the new A14 Bionic chipset increasing performance by 40%. It comes with a larger liquid retina display and in five different colors. The iPad Air is integrated with USB-C, 12MP rear camera and 7MP front camera, touch power button, and a magic keyboard. Price : $599   India : 69,900₹ ( Wifi cellular) and 54,900₹ (Wifi) 
But, alas, to the disappointment of many there was no announcement of the new iPhone 12 and subsequently, social media was in a roar and many fans took to twitter sharing memes and poking fun with the tag, "where is my iphone12?":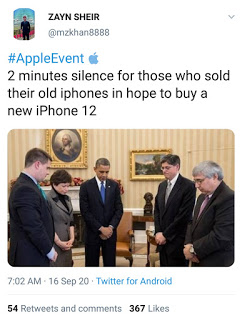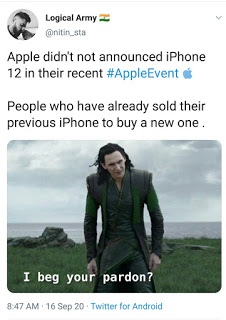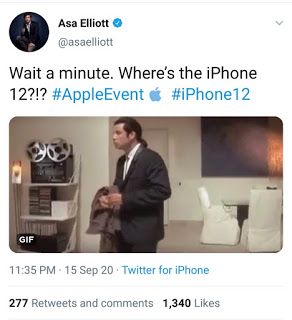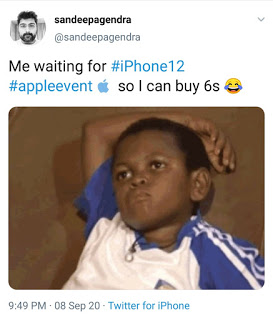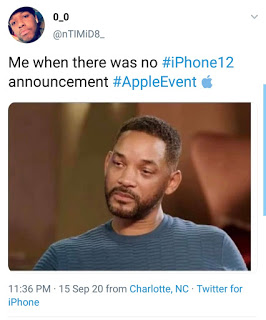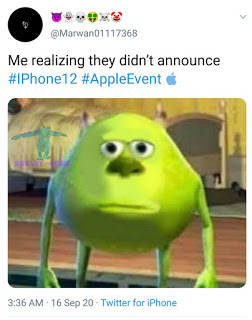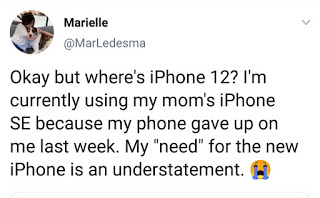 If you like the site, please consider joining the telegram channel or supporting us on Patreon using the button below.