cl0p Ransomware Victim: flagstar-com
NOTE: The information on this page is fully automated and scraped directly from the cl0p .onion Dark Web Tor Blog page and reposted here for awareness.

SCREENSHOTS, PII and LINKS have been automatically removed before posting here. If you want to see that content you can visit the tor url located here:
hXXp://santat7kpllt6iyvqbr7q4amdv6dzrh6paatvyrzl7ry3zm72zigf4ad[.]onion/flagstar-com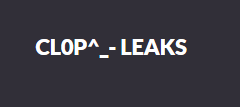 Type Public company
Traded as NYSE: FBC
Russell 2000 Index component
Industry Financial services
Founded Flagstar Bancorp, Inc. – 1993; 28 years ago (as FSSB Holding Corporation); Flagstar Bank, FSB – 1987; 34 years ago (as First Security Savings Bank, FSB)
Headquarters Troy, Michigan, United States
Key people John D. Lewis, Chairman
Alessandro DiNello, President and CEO
Net income Increase $0.187 billion (2018)
Total assets Increase $23.3 billion (2020)
Total equity Increase $1.570 billion (2018)
Number of employees 3,938 (2018)
Website www.flagstar.com


Want to delete a page or buy data? Write to the email indicated on the home page. We have a lot of private personal information including the SSN, addresses and phone numbers etc… of your clients and employees.


Under each part of the files, you will find screenshots specifically from that part.
FILES PART1




FILES PART2


FILES PART3





FILES PART4








SCREENSHOTS PART1











































































































SCREENSHOTS PART2




To get additional information, please download the
Tor Browser
and then visit the onion site located here: (to defang, remove the
[.]
and replace with . Also change
hXXp
to http) You can then copy and paste it into the Tor browser to get updates regarding this victim of cl0p Ransomware