This COVID-19 Website By Google Tells You All You Need To Know About Coronavirus!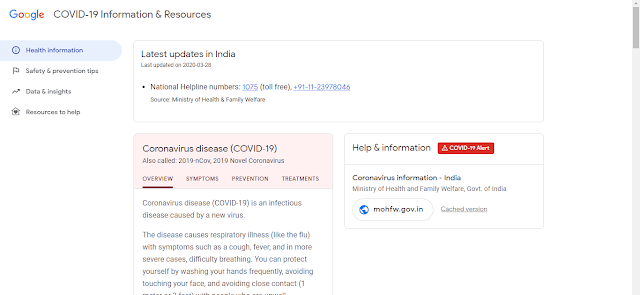 The first step anyone took after hearing the first of the Coronavirus was 'Googling' it. Google has been a solution, for as long as we can remember, to most of our queries. Yet again it upholds its
reputation.
Amid all the mass confusion and chaos this virus has caused for the human race, every single one of us has wanted a 'go-to' for a little clarity between all of this bewilderment related to COVID-19.
Be it asking about the first symptoms, vaccine information or prevention strategies, in the middle of this bewilderment people have continued to look up to search engines for answers.
Google stepped in at the right moment and launched a website that encompasses next to every single bit of information about the Coronavirus.
Per sources, by way of collaborating with the US government, Google was has developed a website fully committed to educating people about COVID-19 including the probable symptoms, ways of prevention, treatment and all the other related information.
Reportedly, in the last week of January, Google had launched an SOS "alert" packed with resources and safety details from the WHO, plus the latest news. The alert, as of now, has spread across many countries in 25 languages. Per sources, people in over 50 countries have access to localized public health guidance from authorities.
The website mostly centers on providing health-related information along with safety and preventive practices, helpful resources, updated data and insights, relief assistance, the most recent of news, the early symptoms of the disease and how it spreads.
The website strongly endorses the "Do the Five" campaign to further wakefulness about basic things people can do to control the spread of COVID-19, per the WHO. According to sources, the website also has a map of the affected areas via the WHO and links to national health authority websites.
The website is loaded with informative videos from the Ministry of Health & Family Welfare, depicting the importance of washing hands regularly, responsible behavior and fighting together.
It is a massively lucrative initiative towards putting all the misunderstandings and confusion of people regarding COVID-19, to rest. The website shall be regularly updated and improved with more details and resources.
The link to the website:
https://www.google.com/covid19/