The Roomba e5 was introduced by iRobot at the IFA 2018 along with the Roomba i7+. But while the Roomba i7+ has been getting a lot of attention and media coverage, nobody seems to be talking about the Roomba e5. It is not difficult to understand why: the i7+ has features that people have been waiting for since the time robot vacuums were first introduced in the market.
For the first time, we now have a robot vacuum that can empty its own dustbin. This feature, along with the auto-resume and the scheduling features, allows you to forget about vacuuming for a month or so. The i7+ will be able to clean on its own and then throw away the dirt and dust by itself.
With all that, the Roomba e5 has been buried as a footnote in stories discussing the Roomba i7+. But the Roomba e5 also deserves a look.
What Features Can You Expect from the Roomba e5?
The Roomba e5 is one of the first models that iRobot is marketing towards pet lovers. It is still a Roomba. And this practically guarantees that you can expect the same level of clean with this robot vacuum as with previous Roomba robots. The Roomba e5 has the following features:
Design and dimensions of the Roomba e5
The Roomba e5 retains the round shape you see in prior models. The e5 has a diameter of 13.3 inches and a low profile at only 3.6 inches high. Looking at the robot vacuum from above, you would not be able to able to distinguish it from other Roomba models. But turn it over, and you would see the bright green accents of the rubber brush and the side brush. The Roomba e5 uses rubber brushes that are placed between its two wheels. The Roomba e5 weighs 7.2 pounds.
All the notable features of the Roomba e5
The Roomba e5 uses a vacuuming technology that is five times as powerful as the Aerovac system you see on Series 600 robots. This means that the Roomba e5 has a more powerful suction than the Roomba 690 and Roomba 675, both of which are currently available on the company's online store. This is comparable to the suction power you get from Series 800 Roombas and the Roomba 960.
Three-stage cleaning system
One of the many Roomba technologies that the e5 has is the three-stage cleaning system that makes use of a side brush, the main brush, and a powerful vacuum to clean. The dual multi-surface rubber brushes serve as the main brush. iRobot claims that these brushes can hug your floors, which results in more dirt and dust getting picked up. Compared to brushes with bristles that might bend, the rubber brush will not miss dirt or pet hair.
The robot vacuum also has the dirt detect feature that uses a variety of sensors to identify the dirtier areas on your floors and spend more time cleaning these spots.
Additionally, the Roomba e5 also uses a washable dustbin and a high-efficiency filter that can trap up to 99% of dog and cat allergens into the dust receptacle.
Best for pets
A lot of companies are now coming out with robot vacuums that are marketed to pet owners. People love having their pets around, and for some, they are part of the family. But they do shed, and they leave hair all over your floors. For this reason, you will love the Roomba e5's three-stage cleaning system that can comprehensively pick hair, dust, dander and other stuff from your floor.
Wi-Fi connectivity
The Roomba e5 connects to your Wi-Fi network so that you can pair your robot vacuum with your smartphone. The companion mobile app allows you to control your robot vacuum and then set up cleaning schedules. You do not even have to be at home to start cleaning with your Roomba e5. The mobile app will also allow you to monitor the robot's activity and see a history of where it has cleaned. You can also access maintenance videos straight from the app.
The WiFi connectivity also enables you to use voice commands. If you have Google Assistant or Amazon Alexa speakers, you can just tell the Roomba e5 to start, stop or pause cleaning. You can also ask it to go back to its dock.
Auto recharge function
The Roomba e5 can recharge itself when it needs to. One full charge of the lithium-ion battery will power the e5 for 90 minutes.
What's in the box
Each package of the Roomba e5 comes with:
The Roomba e5
The charging dock
A dual mode virtual wall barrier with two AA batteries
Owner's manual and documentation
Pricing, ratings, and reviews of the Roomba e5
Roomba e5 is (now available via Amazon here). You can also buy it from iRobot's online store. It currently has a rating of 4.5 stars out of 5.0. Most of the positive reviews talk about how this robot vacuum can clean very efficiently, how easy it is to use, and how well it cleans under furniture. Most people also agree that this robot vacuum is an excellent tool to clean your floors and pick up pet hair.
However, it is not perfect. Some people complained about how small the dustbin is as well as the fact that it misses some spots.
How Does the Roomba e5 Compare to the Competition?
The thing with robot vacuums is that there is no dearth of competitors. Even in the pet hair segment, there are already several robot vacuums that you can choose from. How does the Roomba e5 compare to the Neato Botvac D6 Connect, Eufy Robovac 11+, or the Bob PetHair Plus?
Neato Botvac D6 Connected
The Neato Botvac D6 Connected is one of the two robot vacuums that the company introduced at the IFA 2018. It has the LaserSmart navigation technology that allows the robot vacuum to scan your floor and create maps of your room. These maps are used to ensure comprehensive clean of your rooms. The Botvac D6 also shines because of the virtual no-go lines that you can draw on the maps stored on the companion mobile app.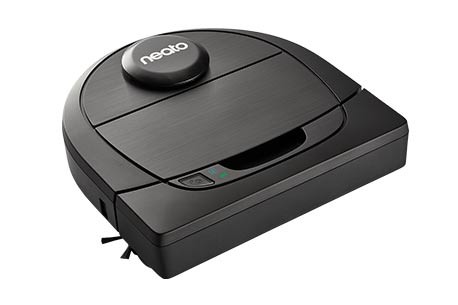 Neato markets the Botvac D6 Connected as its robot vacuum for pet hair. The robot vacuum has a wide brush and strong suction power. It also has a long-lasting battery and can charge itself when the battery runs low. Speaking of charging, you can also enjoy the Quick Boost charging feature that will calculate how much charge your robot vacuum needs to finish a job. Further, the Botvac D6, like the Roomba e5, connects to your WiFi network.
You can buy the Neato Botvac D6 Connected from the manufacturer's website, as well as Amazon, Best Buy, and other online retailers. It currently has a rating of 4.2 out of 5.0 stars on Amazon.
The Roomba e5 is more affordable than the Neato Botvac D6 Connected, but it does not have the Lasersmart navigation and mapping technology. It also does not have IFTTT compatibility. Aside from that, however, the cleaning and features delivered by the e5 and the Botvac D6 are somewhat similar.
The Bob PetHair Plus
The Bob PetHair Plus is also marketed towards pet lovers that would love the robot vacuum's strong suction and long-lasting battery. This robot vacuum helps keep your and floors clean from dirt, dust, and of course, pet hair.
Not only that, but it also uses UV rays to sterilize your floors. Further, you would love the HEPA filter and the 1-liter dustbin it has. The Bob PetHair Plus comes with a hefty price tag, but you can buy it at a lower price on Amazon.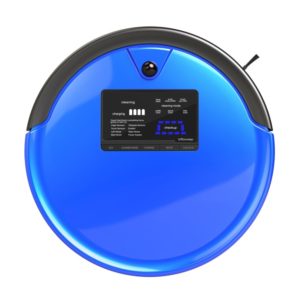 It is rated highly at 4.4 stars out of 5.0. Customers love the fact that this robot vacuum can keep their floors clean, helping them get rid of their allergies. They also raved about the company's customer service. However, there are complaints about the inconsistent results they get with this robot vacuum and the poor navigation system it has.
Compared to the Roomba e5, the Bob PetHair Plus wins because of its bigger dustbin and UV sterilization feature. But it is much more expensive than a Roomba e5, and an inferior navigation system.
Eufy Robovac 11+
Using the Eufy Robovac 11+ is like going back to the basics. It does not have a companion app, it does not connect to your Wi-Fi and Alexa would not know it exists. But it does come with a lithium-ion battery that can clean for up to 90 minutes. It also has a three-point cleaning system, much like the Roomba e5.
If you are looking for a robot vacuum that cleans up your dog's or cat's hair, then you should check out the Eufy Robovac 11+. This robot vacuum is great for small spaces and light cleaning. You can buy this budget robot vacuum from Amazon too.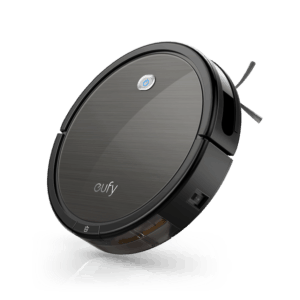 This robot vacuum earns a rating of 4.3 out of 5.0 stars on Amazon. Customers praise the Eufy Robovac 11+'s outstanding performance and low price. It has a very strong suction but can work really quietly. Plus cleaning out the dustbin is a breeze.
There are some complaints, however. Some gripes about this robot vacuum include the unavailability of replacement parts and how it looks like it is just bumping around the room. Other people also complain about how bad its collision detection is.
What You Would Like About the Roomba e5
Over the years, iRobot has been naming its robots depending on the series it belongs to, such as the Roomba 980 being part of its Series 900 robots. The Roomba e5 might have a different name than what we are used to with iRobot's line of robot vacuums. But the e5 is every bit a Roomba.
You can find all the technologies that you have loved about the Roomba in this robot vacuum. There's the dirt detect, the three-stage cleaning system, and the Wi-Fi connectivity. Plus, you get this at a much lower price..
With the Roomba e5, you can get affordable, and Wi-Fi connected robot vacuum that can clean the pet hair off your floor.
What Could Be Better
The Roomba e5 does not have the iAdapt 2.0 technology that you see on the Roomba 980 or Roomba 960. This means that it does not have a camera and cannot create maps of your room. It only relies on its sensors to find its way around your room, and its cleaning pattern to make sure that your floors get the cleaning it deserves.
Our Final Recommendation: Is the Roomba e5 Worth it?
If you think about it, the Roomba e5 has nothing groundbreaking to offer. The company took some features from the Series 800 and Series 900 models and gave it a Series 600 pricing. This fact is not a bad thing. It merely shows that iRobot is committed to providing their buyers more choices so that they could find the perfect robot vacuum for their needs and budget.
If you are in the market for a robot vacuum that has excellent suction and is great at picking up pet hair, as well as a no-tangle main brush, and Wi-Fi connectivity, then the Roomba e5 should be on your list of robot vacuums to consider.
If you are looking for something more affordable, then the Eufy Robovac 11+ deserves a look. This would be perfect for you if you have a small home or apartment. Or if you do not mind the stripped away features.
If the price is not a consideration, you can pay more for the Bob PetHair Plus and get UV sanitation. But a better alternative would be Neato's Botvac D6 Connected, which gives you everything that the Roomba e5 is offering, plus its LaserSmart navigation technology.
Bottom Line: Should you buy the Roomba e5? Yes. It is undoubtedly a capable robot vacuum that is smart and connected. You can bank on the Roomba name to make sure that your floors are clean, not just of pet hair, but of all dirt, dust, and debris. Combined with the competitive price point here, the Roomba e5 is a great combo of features and value.
Further read,
Roomba e5 vs s9
Roomba e5 vs i7 vs i7+: What's the Difference?
Roomba e5 vs. Roomba 690: Which is Best?
Roomba e5 vs 675
Roomba e5 vs 890
Roomba e5 vs e6
Roomba e5 vs 960
Roomba e5 vs Botvac D7
Roomba e5 vs Botvac D5
The post Roomba e5 Review [2020]: Worth the Price? appeared first on All Home Robotics.